PebbleCreek's Community Services Patrol Department enforces community rules, as well as provides many homeowner services, such as driving by vacationing residents' houses, jump-starting homeowners' vehicle batteries, and alerting homeowners about water leaks. The Community Services Patrol's presence is intended to discourage crime and to provide assistance within PC.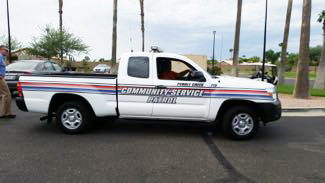 Community Services Patrol officers perform their duties as agents of the HOA, for the benefit of residents. The Community Services Patrol has the power and authority to enforce PC's CC&Rs, By-Laws, Articles, Rules, and ALC Guidelines.
Community Services Patrol officers do not have the power or authority of police officers. City of Goodyear police and other law-enforcement agencies handle criminal-law violations within PC, and can be called upon to handle vehicle-related criminal violations that are also covered by city or state law.

If you have questions about traffic accidents or other incidents near PebbleCreek that involve the Goodyear Police, the best source of information is the Public Information Officer of the Goodyear Police Department, Lisa Kutis.  She can be reached at lisa.kutis@goodyearaz.gov.

Service requests: Community Services Patrol provides services to residents 24 hours a day, seven days a week. Do not hesitate to call on Community Services Patrol at 623-935-0387.

Information requests: If you have questions about guest entry or other issues involving the guard gates, call 623-935-0387 24 hours per day, seven days per week.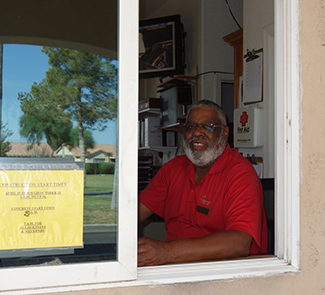 PebbleCreek's Guest Relations Department greets all residents, guests, and vendors who drive through the two main entry gates. Its mission is to ensure friendly, courteous, speedy drive-throughs that avoid delays and wait lines.
Guest Relations staff members, wearing red shirts and khaki pants, work the gates daily 24 hours a day.  If you have questions about guest entry or other issues involving the guard gates, contact GR staff at 623-935-0387. 

Radio Frequency Identification tags allow automated entry through the PC entrance gates. The Patrol installs approved RFID tags on the windshields of residents' automobiles, recreational vehicles, motorcycles, and golf carts – after homeowners have completed a tag-application process.
Director of Guest Services, John Singleton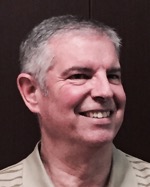 Office:   623-536-2130 
E-mail:  john.singleton@robson.com
Patrol:   623-935-0387 (Eagle's Nest Gate House)  
Office location:  Room 101 Eagle's Nest Activities Center 
3657 Clubhouse Drive, Goodyear, AZ  85395
(on the northeast corner of Robson Circle and Clubhouse Drive)

The Patrol Clerk's Office is in the Eagle's Nest Clubhouse and is open Monday through Thursday 7 a.m. to 4 p.m. and Friday, Saturday, and Sunday, 7 a.m. to 1 p.m.