During the period of coronavirus precautions, the Expressions Gallery and Gift Shop is closed. Plans are in place to reopen on Thursday, Oct. 15.  For questions during this time contact Sherri Van Schaick at sherri.vanschaick@robson.com or Cheryl Neel at cheryl.neel@robson.com.
Expressions Gallery
Expressions Gallery and Gift Shop, located in the Creative Arts Center, provides a consignment outlet for resident artisans to display and sell their creations. The shop, which is open to the public, showcases a variety of media, including sketching, painting, ceramics, glasswork, jewelry, beading, fabric art, rug hooking, gourds, and woodcarving, among others.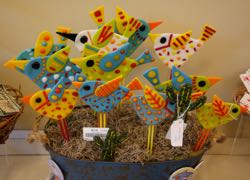 Come to the gallery to admire – and purchase – creations by resident artists.
Gallery staff changes exhibits routinely; assuring visitors may enjoy fresh displays for admiring and purchasing. The maximum display period for any item is two months.
The Expressions Gallery and Gift Shop will reopen Thursday, Oct. 15, 2020, under strict COVID Guidelines. Masks are required in the building, hand sanitizing upon entering and social distancing.

Hours of Operation:
Monday – Friday 9 a.m. to 3 p.m.

Phone:  623-935-6744
Address:  16280 Clubhouse Drive, Goodyear, AZ 85395