Expressions Gallery
Expressions Gallery and Gift Shop, located in the Creative Arts Center, provides a consignment outlet for resident artisans to display and sell their creations. The shop, which is open to the public, showcases a variety of media, including sketching, painting, ceramics, glasswork, jewelry, beading, fabric art, rug hooking, gourds, and woodcarving, among others.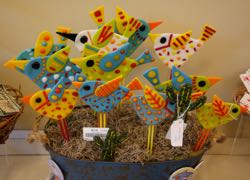 Come to the gallery to admire – and purchase – creations by resident artists.
Gallery staff changes exhibits routinely; assuring visitors may enjoy fresh displays for admiring and purchasing. The maximum display period for any item is two months.
The Expressions Gallery and Gift Shop reopened Thursday, Oct. 15, 2020, under strict COVID Guidelines. 
All customers/visitors will:
Enter through the main entrance of the Creative Arts building
Wear a mask at all times during the visit to the building
Sanitize hands and sign-in prior to entering the building
Exit using the south door within the Expressions Gallery and Gift Shop
Because we are asking that all customers exit using the door within the Expressions Gallery and Gift Shop, customers are encouraged to wander the halls before going into the gallery. There just might be something in one of the windows you can't live without. The staff member at the main entrance will gladly get it out of the window for you and bring it to the gallery for you to purchase. Please note a mask must be worn at all times as you approach, enter, and move through the Creative Arts building and in the Expressions Gallery and Gift Shop.
Purchases can be made by check, credit card or homeowner's card. We are not accepting cash at this time.

Hours of Operation:
Monday – Friday 9 a.m. to 4 p.m.

Phone:  623-935-6744
Address:  16280 Clubhouse Drive, Goodyear, AZ 85395