Local rules, followed specifically on PebbleCreek's golf courses, cover water hazards, out-of-bound landings, ball-drop zones, and obstructions, among other situations. Golfers are encouraged to carry cell phones for use during emergencies. 
PebbleCreek Homeowners Association's golf rules and policies govern all aspects of using its golf facilities and are posted in their entirety. Two of the most-often-used sections cover:
Golf carts - A limited number of golf carts are available at each pro shop. Privately owned golf carts are permitted on the golf courses, provided the carts meet HOA-approved golf-cart specifications for dimensions, power, and other data. Some fees may apply. Carts must be registered with PebbleCreek's HOA. See Resident and Guest Services staff at the front desk of either clubhouse to begin the process of registering your golf cart. 

Chelsea Tee Time Reservation Requests - The Chelsea Tee Time Reservation System is used at PebbleCreek to allocate tee times in an equitable manner based on points earned for previous use of the system and on inputs provided by golf course management. The Chelsea Requests policy ensures that only legitimate requests are made.

Dress code - Applies to all persons using the golf courses and practice facilities.

Five-some Play - Allows groups of five golfers to play together under specified circumstances

Frost delay - Specifies how tee times are altered when there is a frost delay

Homeowner Pre-Book Guest Golf - Identifies how homeowners may book golf for their guests

Pace of Play - Outlines expectations for time spend on the course 

Practice facilities - The practice facilities at both courses include driving ranges, putting greens, and greens for pitching, chipping and bunker practice.  The policy covering practice facilities includes safety and courtesy requirements, and delineates signage and handling of range balls and baskets.
Pace-of-play guidelines ensure that golfers keep their play moving along within a reasonable timeframe for the enjoyment of all. PebbleCreek's Golf Course Rangers perform a wide variety of tasks and could be described as a little bit diplomat, ambassador, cop, maintenance worker and mechanic – but they are definitely all about customer service and teamwork.  The "eyes and ears" of the golf course, rangers strive to ensure a reasonable pace of play, and also ensure that players enjoy their golfing experience. Rangers on the course monitor groups' progress, enforce course rules, and assist golfers, when needed.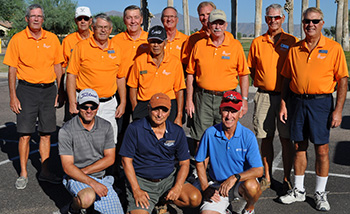 Guests
Guests - Guest cards are available from Resident and Guest Services staff at the front desks of either clubhouse. Each guest must present his/her guest card, when checking in, to the starter. Guests are not permitted to make starting times through the automated tee-time system.
Use of courses and cart paths
Golf courses and cart paths are restricted to golf play only. Only authorized golf-course staff – and persons who have checked in at the pro shops, or who have been approved to play golf -- are allowed on the golf-course cart paths. Roadways are to be used for traveling to and from clubhouse areas.
Disabled access
Disabled residents of PebbleCreek must acquire, for their golf carts, handicap parking stickers, available through Resident and Guest Services staff at the front desk of the Eagle's Nest clubhouse. Qualification is required.
The handicap sticker must be placed on the cart and be easily identifiable by course staff. The sticker is used on golf carts in place of a hanging sign. Only the person identified as medically qualified for the sticker may have handicap access.

A person possessing the sticker has access to all fairways and roughs (under normal conditions).

Desert areas will remain restricted.

Carts must stay at least 25 feet away from tees and greens.

The golf-course superintendent reserves the right to close fairways and roughs to all access, under adverse weather conditions and specific agronomic conditions (such as overseeding) in which cart usage would damage the golf course.

Non-resident access is granted on a case-by-case basis. Proof of qualification must be shown. Flags are given for daily use and must be returned to the pro shop after the round.
Kids rules
Several rules restrict children's access to the golf courses. For example:  
Golfers younger than 16 must obtain official permission before checking in with the starters

Drivers of golf carts and Segways must carry a valid driver's license with them

Passengers riding in golf carts must be sitting on bench seats

Skateboards are prohibited on courses and common areas.