PebbleCreek Cinema Society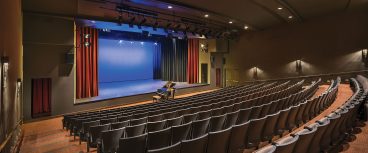 Your Activities Office is thrilled to announce a very special Cinema summer series, with special guest Leonard Maltin for our August programs! We have worked closely with Andy Friedenberg, the man behind our regular Cinema Society Series to bring you a two-month summer series. The mini film festivals will take place two consecutive days a month each, in July and August, and will offer film-themed lecture/introduction, a film screening and post film discussion/Q&A. These programs has been created exclusively for PebbleCreek. All the details are listed below. 

Residents can subscribe to this mini-series beginning Tuesday, June 1, 2021. We need to have a minimum of 100 participants to be able to offer this series. So we will ask you to fill out a registration form and once we reach the 100 participants per month, we will begin processing the credit card payments. If we do not get to 100, we will notify all registrants and your card will not be charged. 

Pricing for each month is $55 per person, or $100 per person if you purchase both months at once. You get two days of content each month as described below. Your ticket is transferrable, so if you can only attend one of the two days in the month, you can share with a friend or neighbor.

July Mini-Film Festival: Thursday, July 15 and Friday, July 16
Celebrity War Stories: Confessions of a Movie Studio Publicist 

Andy is releasing his new book "Celebrity War Stories: Confessions of a Movie Studio Publicist" that features many, many stories of his days working as a studio publicist at Columbia Pictures. He has prepared two outstanding programs for us for July featuring a lecture segment and film screening, followed by Discussion/Q&A.   
Thursday, July 15; 1 – 4:30 p.m.
Celebrity lecture topic: Dustin Hoffman and Kramer vs Kramer (1 – 1:45 p.m.)
Screening of Kramer vs Kramer (2 – 4 p.m.)
Q&A with Andy (4 – 4:30 p.m.) 
Friday, July 16; 1 – 4:30 p.m.
Celebrity lecture topic: Director Sydney Pollock and Actor/Singer Willie Nelson and The Electric Horseman (1 – 1:45 p.m.)
Screening of Electric Horseman (2 – 4 p.m.)
Q&A with Andy (4 – 4:30 p.m.)
For anyone interested in Andy's book, "Celebrity War Stories: Confessions of a Movie Studio Publicist," he will have copies for purchase, and stay after all four programs to sign/personalize a copy for you. 
 
August Mini-Film Festival: Thursday, August 12 and Friday, August 13Leonard Maltin's Classic Favorites: Hitchcock Edition

Andy is extremely proud to welcome (via LIVE Zoom) iconic film critic and historian Leonard Maltin, who will introduce and discuss two Hitchcock classics. Leonard Maltin is one of the world's most respected film critics and historians. He is best known for his widely-used reference work Leonard Maltin's Movie Guide, and its companion volume, Leonard Maltin's Classic Movie Guide, now in its third edition, as well as his thirty-year run on television's Entertainment Tonight. He teaches at the USC School of Cinematic Arts and appears regularly on Reelz Channel and Turner Classic Movies. His books include The 151 Best Movies You've Never Seen, Of Mice and Magic: A History of American Animated Cartoons, The Great Movie Comedians, The Disney Films, The Art of the Cinematographer, Movie Comedy Teams, The Great American Broadcast, and Leonard Maltin's Movie Encyclopedia. He served two terms as President of the Los Angeles 
Film Critics Association, is a voting member of the National Film Registry, and was appointed by the Librarian of Congress to sit on the Board of Directors of the National Film Preservation Foundation.

Leonard will do a taped personal introduction prior to each film. Then immediately after, Leonard will appear LIVE on Zoom from his studio in Los Angeles for a LIVE Q&A/Discussion with our audience, facilitated by Andy. Hearing the personal insight and insider knowledge from Leonard Maltin will have you seeing the films through a new lense.
Thursday, August 12; 1 – 4:30 p.m.
Film introduction: Strangers on a Train; Introduced by Leonard Maltin (1 – 1:15 p.m.)
Screening of Strangers on a Train (1:15 – 3:15 p.m.)
LIVE Q&A/Discussion with Leonard Maltin (3:30 – 4 p.m.) 

Friday, August 13; 1 – 4:30 p.m.
Film introduction: Rear Window introduced by Leonard Maltin (1 – 1:15 p.m.)
Screening of Rear Window (1:15 – 3:15 p.m.)
LIVE Q&A/Discussion with Leonard Maltin (3:30 – 4 p.m.) 
This series is film appreciation class meets film festival! And what better way is there to spend the scorching hot summer afternoons than inside of the beautiful Renaissance Theater?  We hope you will join us for this very special program put together just for PebbleCreek!  

And don't forget, Cinema Society of PebbleCreek begins its new season at the Renaissance Theater in November; details, renewal and sign-up information will be announced later this summer.
 
See you at the movies!

Source: Traci Baker, Director, Community Activities and Communications